I don't participate in too many memes but this one caught my eye. Plus I love the button on this blog!
You all know how much I enjoy photography and posting photographs so I thought this sounded like fun.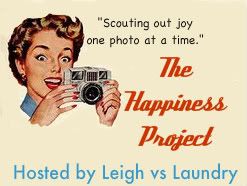 It's called The Happiness Project and it's all about posting pictures of things that make you wildly happy and then linking them to Leigh's blog at
Leigh vs. Laundry.
Here is the last photo I will post for the 2009-2010 winter. If you've seen other photos of Lucy you know that her ears do not stand up. That is unless something is chasing her or she hears a biscuit calling her.